Erindale College is in the Tuggeranong Network of schools in Canberra and provides learning programs for 600 students in years 10, 11 and 12 during the day and some 500 adult learners during evening sessions. Our college is the centre of a community complex which includes a modern 443 seat performance theatre. The complex has the joint-use public and college Erindale Library and the Active Leisure Centre includes a swimming pool and fully equipped gym and group fitness spaces with a membership of two thousand people.
Year 10 In College.
YEAR 10 IN COLLEGE TIMELINE 2016
Applications: Year 10 In College Application Form 2017
Information evening: Wednesday 27th July @ 6pm
Application due: Friday 12th August
Interviews: 12th-23rd September 2016
Preparation Day (incl. Course Selection and College Enrolment: 7th December
To book an appointment for Course Selection Please Click Here
Cambridge Year 10
Applications for Cambridge Year 10 (IGCSE) 2017 are now open! This program provides students with an excellent preparation for Tertiary study in Years 11 and 12.
Applications are due in to the College by Friday 19th of August (Term 3, week 4). Entrance testing will occur during week 6, and successful applicants will be notified by the end of Term 3.
Parents and students interested in the Cambridge Program for Year 10 in 2017 are invited to attend the Year 10 Information Evening on Wednesday 27th of July at 6pm. Applications will be available on the night or can be accessed from the college website.
Application for Cambridge Year 10
If you have any enquiries, please contact Amy Smith on 61422971 or at amy.smith@ed.act.edu.au
Enrolling for 2017
College Enrolment Timeline 2017
To make this process easier for those wishing to enrol or transfer, please use the online enrolment/transfer form.
To book an appointment for Course Selection Please Click Here
Cambridge International General Certificate of Secondary Education (IGCSE)
Erindale College is offering gifted and talented students in Year 9 the opportunity to study for the Cambridge IGCSE. Cambridge IGCSE is the world's most popular international qualification for 14 to 16 year olds. It is recognised by leading universities and employers worldwide, and is an international passport for progression and success.
The program will focus on the core subjects of:
English Literature
Mathematics Extended
Science: with a focus on Physics, Chemistry and Biology.
Global Perspectives: this course develops the ability to think critically about a range of global issues where there is always more than one point of view.
The program will commence in Semester 2 of 2016 and will run for 18 months. Students undertaking this course will also meet the requirements of the Australian Curriculum for Year 10, receiving this qualification at the end of 2017.
In addition, this program also provides students with an excellent preparation for study in Years 11 and 12.
An information session will be held in the Conference Room, Erindale College on Wednesday 1 June at 5.30pm. For more information please contact Debbie O'Brien on 61422984 or Amy Smith at amy.smith@ed.act.edu.au
VET Learner Engagement Survey
If you are currently enrolled in a VET class at Erindale College please complete our Learner Engagement Survey to provide feedback to us on your training and assessment. This feedback is valuable as we strive to make things even better.
The link for the survey is https://www.surveymonkey.com/r/VET_Learner_SurveyS12016
CAMBRIDGE INTERNATIONAL EDUCATION AT ERINDALE COLLEGE
Erindale College has successfully undergone the rigorous application and approval process for Cambridge International Education. The feedback from our 'inspector' was that our presentation was the best he had seen and we have now been approved as a Cambridge International School, joining more than 10,000 Cambridge schools in over 160 countries worldwide. In fact, Erindale College is the first public education college in Australia to be granted this status by Cambridge International Examinations.
Erindale College is offering Cambridge International Educations programs for the IGCSE and AS Levels, catering for students in years 9, 10 and 11. This will be extended to Year 12 in 2017.
Applications for Cambridge Year 9 (IGCSE) Semester 2 are now open, they are due in to the College by Friday 27th May (Term 2, week 5). Entrance testing will occur during week 6, and successful applicants will be notified by week 7.
Parents and students interested in the 2016 Cambridge Program for Year 9 and the 2017 program for Years 10 and 11 are invited to attend the Erindale College Open Night on Thursday 12th May. This night will give you the opportunity to meet and discuss pathways and opportunities with Cambridge teachers, in addition to picking up an application pack.

If you have any enquiries or would like to request an application form, please do not hesitate to contact Amy Smith at amy.smith@ed.act.edu.au.
For more detailed information go to http://www.cie.org.uk to understand what is on offer; or simply Google Cambridge International Education.
Cambridge International Application Process
Erindale College is offering Cambridge International Education qualifications:
International General Certificate of Secondary Education (IGCSE) for students in Years 9, 10 or 11
Cambridge Advanced (AS and A levels) for students in Years 11 and 12 respectively.
Please contact the college on 61422977 for further information.
Michael Hall
---
AUSTRALIAN SCHOOLBOYS: DAN KEIR AND NIC COTRIC
Australian Schoolboys beat England 50-26. Erindale College students Dan Keir and Nic Cotric were members of the successful "Aussie" team that won the first of two International games versus Great Britain. Dan was named player of the match after initially being added to the team due to an injury. Talk about making the most of your opportunities!!! Well done.
If you go to The Live Stream for the Australian Schoolboys Vs England Academy you can see Nic Cotric score the first try at 0:15:30 and Dan Keir score his try at 1:38:47 on the time bar.
Posted in the 8th August 2016 NewsLink
ERINDALE GIRLS FOOTBALL TEAM TAKES ON NSW STATE FUTSAL TITLES
On the 29th July we travelled to Sydney to take part in the NSW Futsal Championships. Gaining entry after winning the Penrith Regional competition we knew we would be up against the best 22 teams in the state.
Game 1 vs St Schols Won 2 – 0
Goal Scorer: Anna Dixon x 2
Coming up against St Schools first was a tough game to have. We spent most of the first half in defence and unable to convert our attack into shots on goal. Cristina was brilliant and kept us in the game, along with great tackles by Shannon. It was well into the second half before we took the lead. Sarah chipped a lovely ball over to Anna to finish off with a header around the keeper. From there we lifted our game and started to control things. Anna's second goal was definitely the goal of the day. It passed through 4 players before Sophie crossed it back post for a tap in.
Game 2 – Vs Vincentia High Draw 1-1
Goal Scorer: Cristina Esposito
Another extremely tough game, with us struggling to keep possession. Vincentia were a very physical side and this rattled us. We tried to stick to our game plan and inspirational runs back in defence and winning some 50/50 tackles gave us the determination to keep going. We conceded in the second half but never gave up. Shannon and Chloe stood out in defence. Cristina scored from a free kick that seemed to confuse the opposition. We took the draw, a lucky escape but it kept us in with a chance of making quarter finals.
Game 3 – Vs St Mary Green Won 6 – 0
Goal Scorers: Sophie Bui x4 , Anna Dixon x2
We needed a good win to finish top of the table and we came out firing. Although we were convincingly better than the opposition we played as a team to create the scoring opportunities. All of the girls played well this game. Anna and Sophie combining was a stand out. Sophie was set up by Niki and Katelyn. Mel also played well upfront, creating lots of scoring opportunities. A fantastic team win. This allowed us to finish Top of Pool 3, now for quarter finals.
Quarterfinal – Vs Kirrawee HS Lost 3-0
After a change in the draw we spent 2 hours waiting for this game and started very sluggish. Kirrawee came out firing and we struggled to keep up. Sarah and Cristina stood out for us in defence. Anna and Sophie were unable to get the breakthrough up front. When we had chances we failed to find the back of the net. It was great to see the girls fight so hard right till the end despite being down by three for most of the second half. Disappointing to not make Semi's but overall a very good effort by the girls.
PLAYERS: Cristina Esposito, Anna Dixon, Niki Krajacic, Chloe Willis, Katelyn Evans,
Shannon Esposito, Sophie Bui, Mel Ward and Sarah Daisley
Posted in the 1st August 2016 NewsLink
MOUNTAIN BIKING: JACKSON FREW AND SIAN A'HERN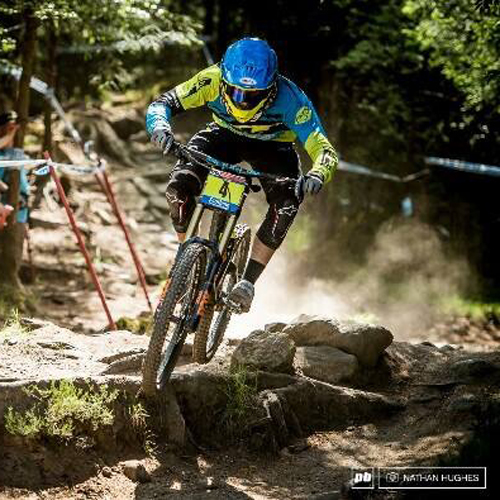 Jackson Frew pictured above
Year 12 TSP students, Jackson Frew and Sian A'Hern left Australia on the weekend to start their 2016 Mountain Bike Worlds campaign, that sees the season finish at the World Championships, Val di Sol Italy in September. First leg of the campaign is Whistler, Canada BC with 10 days training. Jackson will then travel with his team, GT Factory Racing to Montreal and race the last World Cup for the season outside of Europe in Mont Saint Anne (MSA). Mont Saint Anne is a fast track and a favourite on the mountain bike calendar. Sian will also travel to MSA and have the chance to maintain her top 5 ranking in Junior Women, by racing her first MSA race! After MSA they fly back to Whistler to train and race.
Whistler hosts Crankworx - a 10 day mountain bike festival, the biggest bike event outside of Worlds and World Cups. The event attracts more than 25,000 spectators and is a favourite with riders. Again this will be Sian's first time racing Crankworx, Jackson has raced Crankworx over the past few years and being the only Australian rider to win Prince of Crankworx in 2013.
Sian A'Hern pictured above
Jackson and Sian will then fly to Andorra, in Europe. Andorra is an independent principality in the Pyrenees, between Spain and France that hosted last year's MTB World Championships. This in one of the steepest tracks on the World Cup calendar in the most beautiful countryside. After Andorra in August they fly to Val da Sol, Italy to compete in the MTB World Championships. This event will finish the 2016 season and enable riders to go home and have a brief rest before the domestic season commences in December.
Erindale has enabled both Jackson and Sian to be able to attend school, train and compete both domestically and Internationally. Both riders are currently ranked in the top 5 in Junior Men and Women in the world - Good luck guys!
Written by Jo Frew
Posted in the 1st August 2016 NewsLink
RUGBY STOCKS SWELL AT ERINDALE COLLEGE
As well as the 3 Erindale ACT Rugby Union players recently selected for the Australian Schoolboys, Erindale College has also had 2 boys play for the Northern Territory. Yr. 12 students Tom Watego (Right) and Elijah Simpson (Left) were invited to play for the Division 2 Northern Territory team due to their previous residency and history of representative football.
The boys enjoyed a week long camp at the AIS prior to leaving for the Championships in Sydney. This allowed them the opportunity to meet their fellow team mates and develop game play and strategy. The National Division 2 Competition is played between the Northern territory, South Australia, Tasmania and the Lloyd McDermott Indigenous team. Northern Territory went through the competition undefeated and took out the championship. Tom and Elijah will now represent the College in the upcoming Waratah Cup state wide knockout being played 3/8 in Sydney.
Posted in the1st August 2016 NewsLink
TENNIS- DIMI MOROGIANNIS
Dimi Morogiannis made the final of the Junior ITF (International Tennis Federation) South Pacific Open Junior Championships in Fiji.
Dimi is a tennis player and a member of the Individual Squad for the Talented Sports program.
Although Dimi did not drop a set on the way to the final unfortunately Dimi retired in the final against Yu Hsiou HSU (TPE) as he had an injury that occurred before the match that day.
Dimi joined Erindale as a Year 10 student and has recently earned Year 12 certification. We wish him well for the future.
Posted in the1st August 2016 NewsLink
Canberra insurance broker Ali King (Former Erindale College student) to show her creative side on Zumbo's Just Desserts
Canberra insurance broker Ali King will be showing her sweet side as she competes to be Australia's top dessert maker on a new reality show.
She is one of 12 dessert makers putting their mixers to the test on Zumbo's Just Desserts under the eye of host and judges Adriano Zumbo and Rachel Khoo.
​"I've always been a creative person, whether it's painting or arranging flowers or cooking," she said.
The show will be on Prime7 after the Olympics.
The 28-year-old was up for the challenge of making a dessert in front of Zumbo, famous for his devilishly difficult dessert challenges on MasterChef and British cook Khoo.
"It was a bit scary thinking what he might come up with. His desserts were so outlandish and crazy and detailed on MasterChef but I also kind of thrive off trying to replicate something," Ali said.
Born and bred in Canberra, Ali works for Capital Insurance Brokers in Deakin.
"One of my colleagues knew I loved to cook and saw the ad [calling for contestants] on telly and said, 'Ali, you need to apply'. And it all happened really quickly," she said.
Ali, who went to Wanniassa Primary, Wanniassa High and Erindale College, learnt much of her baking from her grandmother, Dorothy MacDonald.
"It's a really nice childhood memory, cooking with her," she said. "I spent a lot of time with grandma because she would look after me while mum was at work.
"It would be really nice if she could see what I've done but she passed away several years ago."
Ali loves all things France and was inspired by a trip to Paris when she was 18.
"I saw all these beautiful cakes and pastries. I was like, 'I want to know how to do that!'."
Macarons are Ali's speciality - and, of course, the delicacy Zumbo made his name on, so she has well and truly nailed her colours to the mast.
Ali intends to be around friends and family, including mum Heather and dad Brian, to watch the first episode.
"One of my friends even suggested hiring out a cinema," she said, with a laugh.
Original article posted in The Canberra Times on 29th July 2016 by Megan Doherty
DAN KEIR ADDED TO THE AUSTRALIAN SCHOOLBOYS RL TEAM.
After a successful week with the ACT team, where Dan Keir was named most Valuable player for the ACT, he has been added to the Australian Team that will play Great Britain in 2 matches over the next fortnight. He joins fellow Erindale College student Nic Cotric.
Incredibly Dan becomes the 3rd member of his family to represent Australia after sisters Ashley and Lauren represented Australia in Tennis and Soccer respectively. All 3 attended Erindale College as members of the Talented Sports Program.
Well done Dan.
Posted in the 25th July 2016 NewsLink
NIC COTRIC SELECTED IN THE AUSTRALIAN SCHOOLBOYS TEAM.
The Australian School Boys team was named following the Australian Secondary Schools Under-18 National Championships played in Wynnum QLD. The will play England Academy on July 31 and August 6.
Nic Cotric has been playing with the Canberra Raiders in the U20's, and is a member of the Talented Sports Program at Erindale College.
Posted in the 25th July 2016 NewsLink
ACT SCHOOLBOYS AUSTRALIAN RUGBY UNION CHAMPIONSHIP
During the first week of the school holidays 3 Erindale College students represented the ACT Schoolboys team at the Australian School Rugby Union Championship. Riley Hughes, Fred Kaihea and Francis Soakai Tai were all outstanding throughout the tournament with all 3 boys playing a vital part. A massive congratulations must go to Francis who was selected in the Australian squad. His damaging ball running and ruthless aggression in defence cemented his spot in this prestigious team. Francis will now travel to Samoa and New Zealand during the September holidays. Well done.
Posted in the 25th July 2016 NewsLink
NETBALL: Waverley International Netball Tournament
Congratulations to the Erindale Netball Squad who recently played in the Waverley International Netball tournament.
The girls played some quality opposition and commenced the tournament in a very tough pool that had the eventual winners and third place getters.
We played 10 games over the 4 days and had some outstanding results. We were fortunate enough to come up against teams from Victoria, Queensland, South Australia, Tasmania and Tonga - winning games against teams from all three states and country!
Our final game was one of just a few nail biters. In wet conditions we went into the final quarter 6 goals down with only a 7 minute quarter remaining. The girls were outstanding and kept fighting away and narrowing the gap. When the final siren went the teams were drawn ... another lot of extra time!! After the first lot of extra time the game was still drawn and we did not have the centre pass advantage. But with true Erindale fighting spirit the girls turned the ball over in the dying moments and scored 2 quick goals to win the game. A fantastic effort once again.
Apart from the great netball I would like to thank and acknowledge the girls for a great trip; your behaviour, maturity and representation of the college was to be commended.
A HUGE thank you also to the wonderful Rachelle Cridland who accompanied us on the trip and was a wonderful manager and person to have on the road trip with us!!
Team members: Jordan Bardsley, Jenna Cattanach, Molly Halpin, Georgia James-Dixon, Chance Kaihe (captain),Felicity King, Nalani Makunde, Sheona Pollard, Kate Svager, Jess Wallace
Posted in the 25th July 2016 NewsLink
GYMNASTICS: ALEX MCDONALD
Congratulations to Alex McDonald who recently competed in the International Level 9 Gymnastics tournament in Christchurch New Zealand.
Alex placed in all 6 of the apparatus and won the overall competition.
Posted in the 25th July 2016 NewsLink
BMX star Caroline Buchanan former Erindale College student aiming high for Rio Olympics
The symptoms have fluctuated between mild and acute but there is no doubt one of Australia's top Rio Olympics gold medal prospects has been afflicted by FOMO.
That's Fear of Missing Out.
For Caroline Buchanan, the energetic 24-year-old ruling BMX world champion – she with eye-wateringly large and very well attended-to online following – this is status usual.
As Rio countdown hype builds among compatriots much closer to her original Canberra home, Buchanan has itched from abroad where she has felt strangely isolated from green-and-gold frenzy since January.
Now, more than ever, she reminds herself this distance is self-imposed and designed for greater good.
Four years ago, Buchanan arrived at the London Olympics with the same reigning world champion ranking she boasts today.
Aged 21 and at her first Olympics she won her semi-final on a gnarly dirt track. With the fastest time from qualifying, her gold medal favouritism could not have been hotter.
Her verge-of-greatness moment literally played out before royalty; sporting and the orthodox kind.
Buchanan spotted David Beckham in those surreal seconds before the 2012 Olympic BMX women's final. Standing at the start gate she suddenly became conscious of a blaring public address system she had blocked out all day. It informed her Prince William and Duchess Kate were also in the house.
An Olympic champion was determined 37.7 seconds after the start gun. The sole Australian in the women's final was engulfed by cameras and microphones. Buchanan was crying but these were not happy tears. It was an outpouring from a young person feeling nothing short of an abject failure.
From primo lane one position she finished fifth. This, she said in the raw and very public aftermath, was the most painful event of her life.
Four years later, this self-described adrenaline junkie who has "learnt to love fear" says it took 12 months to forgive herself for that race.
To guard against a repeat in Rio, Buchanan has honed an array of techniques – including cold-turkey interventions – to limit hyper-reality factors she thinks conspired to throw her in London.
Shortly, Buchanan will place herself in what she calls "detox" mode. It has nothing to do with food. She practised this before the world cup and world championship titles she won this year.
"Basically I pull my Facebook, Instagram, LinkedIn, Twitter – all my apps – and put them into one folder on my phone," Buchanan explained.
"I put that folder at the back of my phone, then for 10 days before competition I don't touch it.
"The first four days are the hardest. You don't realise how many times you go to pick up your phone and flick onto Instagram. But the break allows you to spend more energy and focus on things like race plans, and to really calm down before an event, almost being quite bored. Just calm and centred.
"With BMX being so short, sharp, aggressive and adrenaline-geared I've found this switch-off has become one of the most powerful tools. In London the problem wasn't technical. My body knew what it had to do but my mind had to be in the right place and it wasn't. I wouldn't say I was overwhelmed in London but I could say I was over-stimulated.
"So 10 days before competing in Rio I'll go into detox. We've got some pre-planned posts, some of that is being done now. When I get to the Olympics I'll just be sending photos to people who will upload them for me."
To the sporting purist this might sound absurd. How could this social media thing demand such attention and require such careful controlling?
Well, when you're not in mainstream sport, you're followed online to the extent that Buchanan is and rely on sponsors paying you because of that following, it's actually vital in maintaining a full-time profession.
A Canberran who started BMX racing at age five now has 102,000-odd Facebook followers, 59,000-odd followers on Instagram, a YouTube channel, a website, Twitter and LinkedIn accounts.
Whether modelling bespoke 'green fade' race eyewear from one of her major sponsors, Oakley, riding her Harley Davidson (another sponsor) or flying in fluro race gear, post-able opportunities abound in Buchanan's adrenaline-filled life.
When $5000 is a record earner for a race win, feeding her social media beasts has made the difference between Buchanan just breaking even and deriving income from sport.
"600,000 views of one of my videos on Facebook has been one of my widest reach examples," she says.
"But my favourite is Instagram. I run little competitions. I love the whole creative side of the videos and photos and making people feel, I guess, like they're riding the journey with me."
Being quarantined from Australia all year has served two purposes: cutting travel for preparatory competitions and limiting distractions. The results are compelling. Buchanan has never had such a consistent season.
"Every part of me has wanted to go to every Rio celebration and lead-off event at home," she says. "When Hamish and Andy call me for something I want to go and do it. I want to go on Wide World of Sports and to the Australian Olympic uniform launch. But it's as if I've traded a bit of that lead-up celebration to make sure I can celebrate at the end of Rio.
"That's what I missed out on in London. It was a huge celebration coming into it but there was no result afterwards."
Original article posted in The Canberra Times on 16th July 2016 by Samantha Lane
Gungahlin Bulls' junior Daniel Keir (Current Erindale College student) set to return after Canberra Raiders under-20s call up
Gungahlin Bulls forward Daniel Keir's dream to play in the NRL received a massive boost when he was called up to play for the Canberra Raiders under-20s and he hopes it will propel him to a bright future.
Keir played his first game for the under-20s against the Brisbane Broncos three weeks ago in another step to burying the injury demons that delayed his rise through the ranks.
The 18-year-old broke one of his toes in a season with the Raiders' under-16s team and then broke his hand before getting an opportunity to trial for the club's SG Ball side.
Keir spent four years playing rugby union after being turned away from junior representative teams as a five-eighth, but made a comeback to rugby league as a forward.
The move has paid off with the call up to the Raiders under-20s team but he says he's still developing.
"I want to develop more as a player and build on for the next couple of years," Keir said.
"I just showed up to the training and worked my hardest; I really took it as a positive because I have had some setbacks over the years, so it is a big positive for me to go forward.
"There are obviously setbacks for players along the way and not everyone gets to play NRL, but NRL is definitely the dream and being called up to the Raiders U20s is a good stepping stone."
Keir will return to the Bulls team on Saturday to play the second-place Queanbeyan Blues, who will be seeking redemption after losing to cross-town rivals the Queanbeyan Kangaroos last weekend.
"The experience has been good, coming up from under-18s Gungahlin Bulls it has been a really big jump for me, but I am excited to get back to the Bulls this weekend and put in a big shift."
Bulls coach Lincoln Withers is happy Keir is back and says the clash against the Blues will be a good test to see how the team is progressing halfway through the season.
Withers is yet to guide the team into the finals after three years in charge.
"We just missed out last year and the year before that we didn't play in it, this is my third year so we haven't been in since I have been in there and hopefully we can change that this year," Withers said.
"We have had a real strong start to the year and then had a couple of losses but now we feel like the last couple of weeks have been good for us.
"It will be a good test for us to come against the Blues who had a loss last week so they will be raring to go."
Original article posted in The Canberra Times on 1st July 2016 by Matthew Stirton
Former Erindale College Students Nathan Hart and Caroline Buchanan heading to the Olympic Games in Rio
Canberra cyclist Nathan Hart has endorsed Anna Meares as one of the most influential leaders in the Australian Olympic Games team and says he will turn to the two-time gold medallist for advice ahead of his debut in Rio.
Hart was one of three Canberra athletes named as part of the Australian cycling team on Tuesday, joining BMX queen Caroline Buchanan and mountain bikeer Rebecca Henderson.
Hart is hoping to help the men's team sprint chase a medal after being called up for his first Olympics.
Meares is the inspirational leader of the Australian team and is tipped to be announced on Wednesday as the flag-bearer for the opening ceremony.
"To see Anna's determination and grit at training is pretty amazing," Hart said. "She's been around for a very long time and obviously has a lot of experience.
"She's one of those people you can go to and ask a lot of questions, especially for someone like me who's going to their first Olympics.
"I'll definitely be doing that for general sorts of things to figure out what to expect. It's great to train with someone like her, and everyone in the team brings something different to the table.
"Every now and then I go to Anna [for advice]. Everyone figures things out at their own rate but to know that she's there to help is an amazing thing."
Hart will link with Patrick Constable and Matthew Glaetzer in the team sprint as the lead-off rider as they try to improve on their fifth place at the world championships in London earlier this year.
The squad will fly to the United States on Wednesday for a three-week training block before the Olympics.
The 23-year-old has enjoyed a gradual rise through the ranks in the past four years, working his way into the national team and relocating to its training base in Adelaide.
The excitement hit over the weekend when he was told he was being selected in the Australian team, and the news sunk in when the squad was announced to the public on Tuesday.
"But now we've got to switch that focus, we've got a job to do," Hart said.
"We've been working towards this for 15 months now ... I was quietly confident but I wasn't getting ahead of myself. I knew I had to keep improving.
"I was only thinking the other day about where I was four years ago when the London Olympics were on. I think I was just stepping into the elite ranks.
"I crashed in a training session at Narrabundah and I broke my collarbone so I couldn't go to compete in Perth. The only good thing about that was that I didn't have training and I could stay up all night to watch the Olympics."
BMX star Buchanan is out for Olympic redemption after suffering heartbreak at her debut Games in 2012.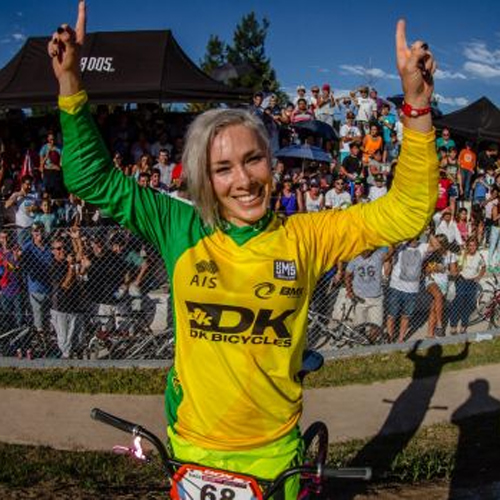 Buchanan was the fastest qualifier for the women's final, but failed to fire and finished fifth in the gold-medal race.
She won the opening two rounds of the BMX World Cup this year, as well as claiming the time trial world title in Colombia.
"The past four years have matured me and helped me deal with stress and pressure," Buchanan said. "Now I am more focussed on BMX and hitting the 1 per cent goals in Rio.
"Last time around I tried to do everything, from working with sponsors, to being a mountain bike world champion, BMX world champion and put time into media. I over committed.
"I'm a whole different human from four years ago. I'm more mature and strengthening my mental side has helped my performance."
Original article posted in The Canberra Times on July 5th 2016 by Chris Dutton
Former Erindale College Student Trent Harvey makes Masterchef's top 10
When Masterchef announced the top 10 contestants, Queanbeyan's Trent Harvey made the cut.
An electrician by day, Harvey decided to apply for the reality cooking competition – which airs on WIN – on a whim.
"I've always been into food a little bit, just the last few years I did a lot of travel overseas, and that's where my interest really took off. I grew up on a farm and that's where it all started but since travelling it really got me into the cooking side of it a little bit more," he said.
"I actually did a cooking class that my partner bought me for my birthday, and we went there and somebody mentioned Masterchef applications. I got home and my partner Kristen – she's the one who pushed me to apply. I never really had thought of doing anything like that before, and it was sort of spur of the moment on the last day of applications so I applied."
Since being on the show, the sparkie has got to rub shoulders with foodie royalty, including Heston Blumenthal, Nigella Lawson, Maggie Beer and Marco Pierre White.
"Marco Pierre White at the start of the comp – he was a lot different to how I expected. I expected him to be really hard and strict in the kitchen but he was sort of a really soft, genuine guy and really down to earth," he said.
"He blew me away with his knowledge and skills and how he's generous enough to share all that with us so that was really good."
He nearly came undone last week during "Heston Week", bowing out in the first challenge. But he recovered in the elimination round to keep going in the competition.
"I was stoked to have made the top 10, so I was just sort of going in and going all out and seeing what I could do," he said.
"If I went home I would've gone home happy because top 10's sort of a massive achievement. I kind of felt like after that point every day is a bit of a bonus."
Having moved to Canberra in grade 11 and finishing his schooling at Erindale College, Trent and his partner now call Queanbeyan home – and they're hoping to put their mark on the local foodie scene.
"I'd always talked about opening a restaurant one day with my partner but to be honest I was planning on doing it a lot further down the track," he said.
"But now that this has happened, I'm gonna try and fast-track that a little bit more. I've been planning and thinking about what I want to do and the best way I can progress into a career in food. I still want to open my own place but it just might change a little bit the how and when. Maybe in the next couple of years."
Original article posted in The Canberra Times on the 1st July 2016 by Jil Hogan
DAN KEIR: RAIDERS DEBUT
Last Friday 3rd June 2016 Dan Keir made his debut in U20s Raiders team v Manly. Dan is pictured here with former student, Brenko Lee, receiving one of a number of awards from the recent SG Ball season. Good luck to Dan, as well as Nic Cotric who has become a regular in the team.
Posted in the 6th June 2016 NewsLink
FORMER ERINDALE COLLEGE STUDENT SUCCESS: TEVITA PANGAI
Tevita Pangai debuted last Friday night 27 May 2016 for the Brisbane Broncos. Tevita graduated from Erindale College in 2013 and worked and played the last two seasons with the Canberra Raiders. Tevita also played and captained the Australian u20's Junior Roos side last month against New Zealand.
Another good news story from a former Erindale College student.
Posted in the 6th June 2016 NewsLink
To see previous Good News Stories please go to Success Stories